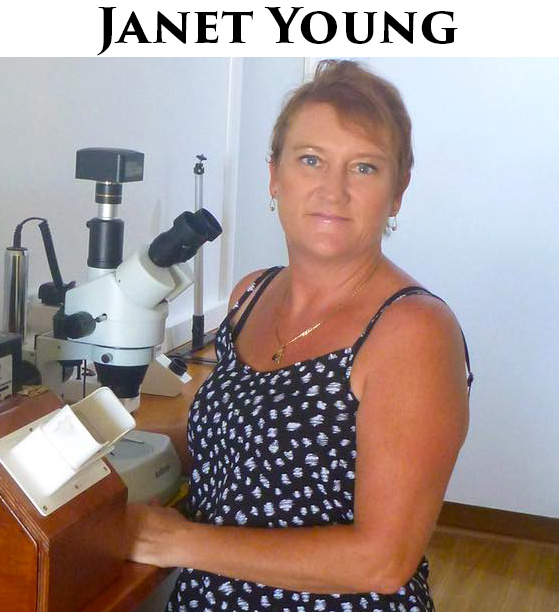 Gemological Evaluations - Jewelry Appraisal and Evaluations
Phone Number :
+61408665896
Email :
gemval.j@gmail.com
Address Info :
PO Box 10104 Mount Pleasant Queensland Australia 4740
Janet Young – GemVal
My interest in gemmology stems from my personal experience of the gem fields and the reward of digging and finding my own precious stones.
I passed my Gemmology Appraiser course and then did my Registered gemmologist appraiser course and thereby made a career change late in life into my dream job. I am currently studying again for my FGAA. I have also completed the practical diamond grading course through the GAA (Gemmological Association of Australia).
I am extremely passionate about my work. I have since realised I have a lifetime of learning ahead of me as the dynamics of this industry changes and develops – so exciting!
Clients are welcome to relax in my lab, which is perfect to do my appraisals in as it has all the up to date equipment to better value your precious items, the pristine white walls do not interfere with the colour of your precious gemstones and diamonds. Or they may wish to browse the nearby shops until their valuation is complete.
I create an extensive, independent and highly accurate certificate of your jewellery, precious gems, diamonds and pearls. Using my knowledge and tools to give you the most precise assessment of your article. We use a combination of standard gem identification equipment and precision measurement instruments, to ensure the most accurate appraisal of your precious items. These include a loupe, refractometer, polariscope, spectroscope, ultra-violet light, microscope etc. All diamonds are graded using industry standard 6000-6500K daylight equivalent lighting and a master diamond grading set.
GemVal is a diverse business which includes valuations, for Insurance or Retail Replacement, Divorce Settlement, Deceased Estates, and Proof of Ownership (for items which have no receipt, i.e. mined gems, inherited items), as well as identification of rough and cut gemstones and valuation of unset gemstones for collectors and investors.
Appraisals for unset gemstones contains a gemological description plus a physical description, usually three photographs, the relevant value on a specific date.
Valuations for jewellery contains a description of the metal work, a description of stones set in the item and four photographs of the object from various angles to enable replacement in the case of loss. The finishing page includes the value, the type of replacement that this figure represents and the market conditions prevailing at the time, for example, the gold price ruling on the date of valuation. All jewellery the gemstones are examined in-situ and is strictly by appointment only.